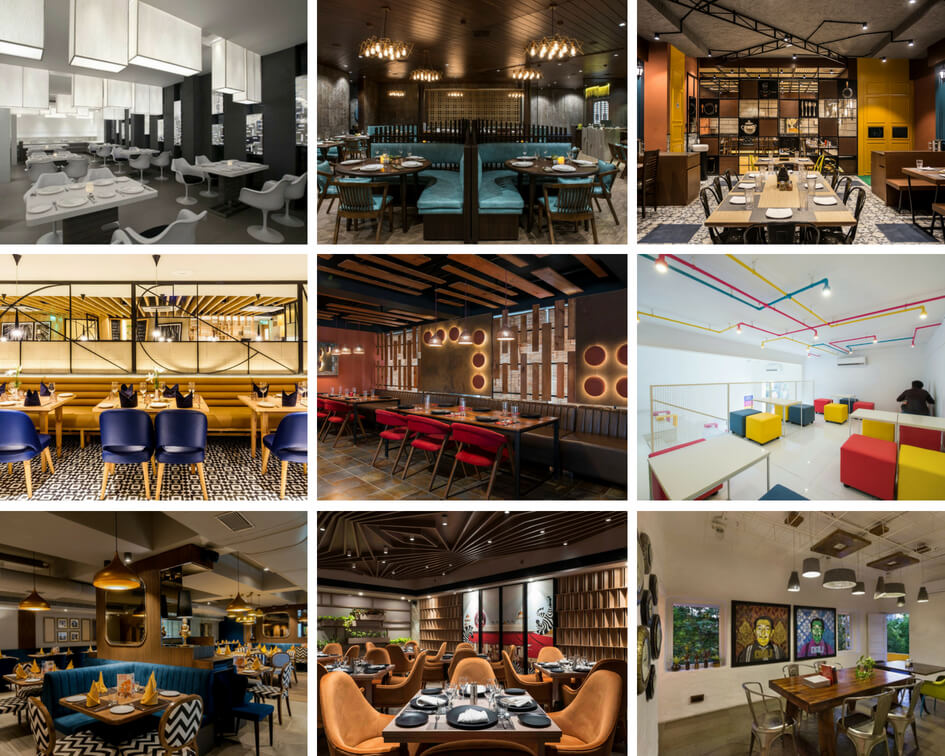 Low budget Small Café interior design
A café with delicious food and energizing coffee is something everyone googles once while some check in to hang out, others to de-stress or jump-start their days. There's nothing much exciting than working in a relaxed environment, the strong aroma of coffee brewing, and the mellow glow of Edison lamps casting a warm glow and the interior design that works with the theme. Running a café is no child's play, to say the least, and your reputation hinges on customer's experience. Confused much and looking for low budget small café interior designs, it can all be managed. With the advent of ventures like co-working spaces, offices have moved out of bleak, bland cubicles into cafés. This opens more opportunities to capitalize on this newer tide all the while pursuing the goal of running a café and being part of people's mornings. The interior design of the cafés has a massive impact on their performance, I cannot assert this more. Aptly designed interiors of the café can transform the experience of getting the daily cup of coffee to something a customer may look up to, but if you only have a few square feet and a lot of essentials to manage this configuration for a low budget small café interior design can help you out.
If you're planning to open up a café anytime soon and have gotten your finances fixed, you should take some time to think through the themes and interior design of the café. Now interior design shouldn't be something that makes you reconsider the entire venture. There is no need to think of replicating a Starbucks just for a better experience when you're managing the capital, want that chick look for your café? These low budget small café interior designs can get you an Instagrammable café without making interior design your job.
Decide your theme.
A theme can make or break the customer experience, and since the café is all about customers, that is the cornerstone. It can range and depend on your brand, finances, and location of the café. You can choose from any of the following themes that are globally used but stay loyal to the theme. These low budget small café interior designs can guide you in selecting and executing the interior décor smoothly.
RUSTIC
Exposed metallic pipes, coir ropes, blunt wooden centerpieces, and overall rough-looking décor style can be used when you're trying to emulate the country décor. It is more often seen in cafés giving a mid-west experience to the customers.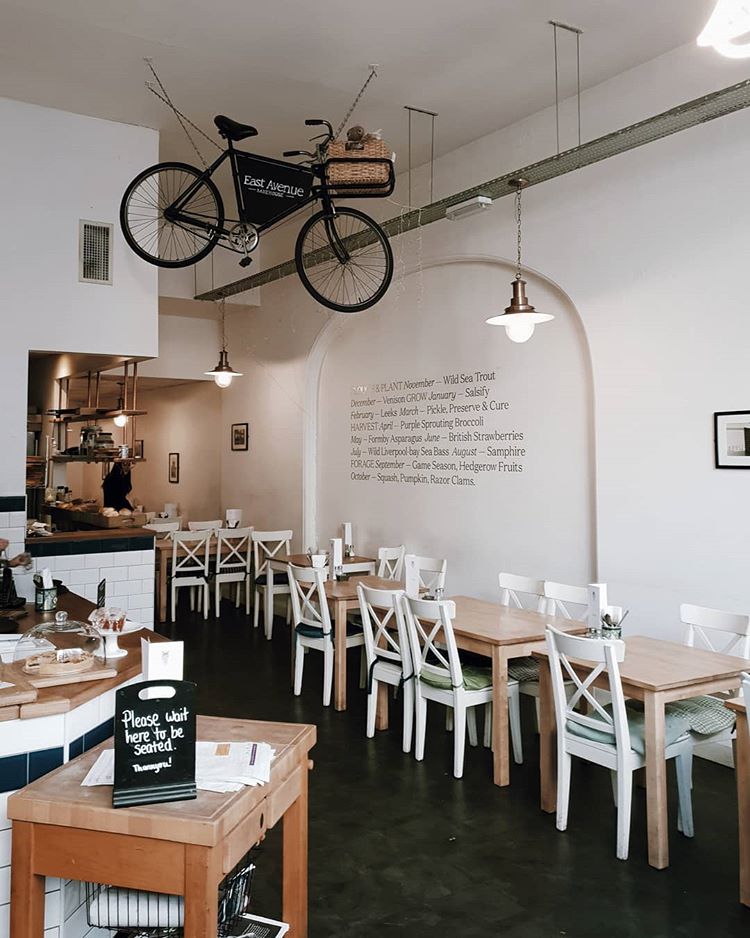 Colors
Gray, black, tan, white, maroon
MINIMALIST/MODERN
Here we have smoother tones of colors used, smooth edges, finer lines, and larger empty white spaces to contrast against any color or other décor, this low budget small café interior design is gaining popularity these days. Minimalism is back! The thing that has to be kept in mind that it demands a lot of care to remain shiny as new. One of the upsides of using minimalist décor at cafés is that since it keeps the surroundings very neutral and clean, it helps you make menu boards much more attention-grabbing and customers have an overall soothing experience.
Colors
brown, beige, cream or pure white
Mid-century style
Against the white background, the mid-century modern décor style prefers bright colors. Carefully selected artifacts, various shades of color, vinyl records, wood themes, ergonomic furniture, and tapering legged tables, and bar stools.
Colors
White, orange, grays, blacks, browns, beige, green, golden, Ivory.
Décor pieces
Depending on your brand, the décor, and overall concept the décor and interior design evolve. Sometimes, however, it is advisable to have accent pieces that provide an immersive experience to the customers. It can range from paintings to wall accents, plants, centerpieces, cutlery to the take out coffee cups. Don't get stressed out procuring all these won't burn a hole in your pockets all the while sticking with low budget small café interior design that we've been discussing until now.
WALLS
After furniture, this is the most noticed area in your café so you want them to be engaging while conferring to the décor style. From lettering to murals, frames, to walls plastered with old newspapers, people have found fun ways to make their walls more Instagram worthy. Let's embrace one fact here, word of mouth travels far and wide. The more your café gives people the experience of upbeat chick décor, the more it will be Instagrammed and more you'll gain customers. But before getting ready with a paint can and brushes, think whether what kind of wall décor will suit your café? Here are some examples.
You can even leave out the walls plastered in a way that they give brick-like texture when you're going with rustic décor. Remember graffiti isn't always cool and doesn't overdo the wall accents, a couple of them are fine.
PHOTOS/ FRAMES
This is a tricky part if your décor is:-
Rustic – go with something textures, a pattern like or abstract hues.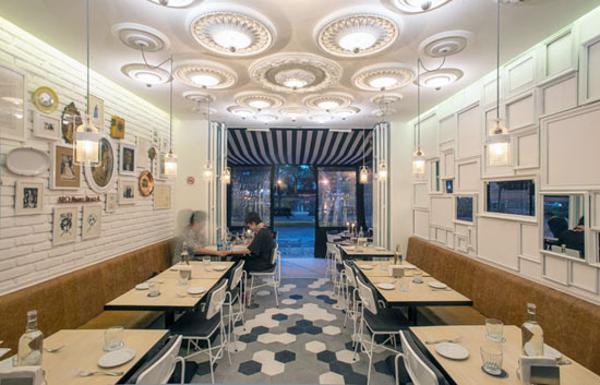 Minimalist – go with something that is minimal like white frames, foliage photos, architecture or people.
Mid-century – go with brightly colored groups of photos on wall that bring out the entire color palette. Having neutral colored walls will give you a benefit.
FOLIAGE/ PLANTS
Last year Delhi had the worst November, the AQI levels shot up to 800, and people were forced indoors. Now that the world is finally catching up with the trends of indoor plants, it is advisable to induct that as well. Not only they are a low maintenance addition to the décor but also they fit in perfectly with low budget small café interior design. Plants like Monstera, Philodendron, Ferns, Succulents, and Dumb Canes are a great décor piece.
LIGHTING
Lighting has a huge role in the aesthetic appeal of any place when the sun goes down. Also important that you place the windows in the right places such that natural light floods in during day time without disturbing your décor. Overhead lights can be of two types, the incandescent bulbs that you'll find humming in road lights and metros or some stores, or the in-vogue Edison lamps.
They are undeniably aesthetic. It can be used in almost all kinds of décor, especially rustic and Boho. They come in various shapes and sizes, like pendant lights, chandeliers, and table lamps. These can be procured easily and at reasonable prices such that you can effectively follow the low budget small café interior design. Another contender for the lighting is string lights, they are more used in minimalist décor and mid-century modern décor styles. They can be perfectly used to adorn ceilings, the foliage of plants, used to make centerpieces, and even more. They are pretty cheap and make any corner look aesthetically pleasing.
Center Pieces
Generally, centerpieces are avoided in cafés. The reason being small tables, fast-paced breakfast hours and menu cards are placed in their place. But if you want to soak up the feeling of festivals or holidays or cozy warmth of winter you can have centerpieces. You can either buy them from markets or even make them yourself. Easiest being a clean jam bottle filled with string lights and some potpourri. You can use LED candles or just some artistic salt and pepper shakers too.
I hope this post on low budget small café interior design has helped you gain a perspective into décor and styling of your café. This post can help you save some money on décor and interior design too. Lastly, remember to keep interiors clutter-free and chick and you're all set to grab attention when your cafe opens up.
SHARE