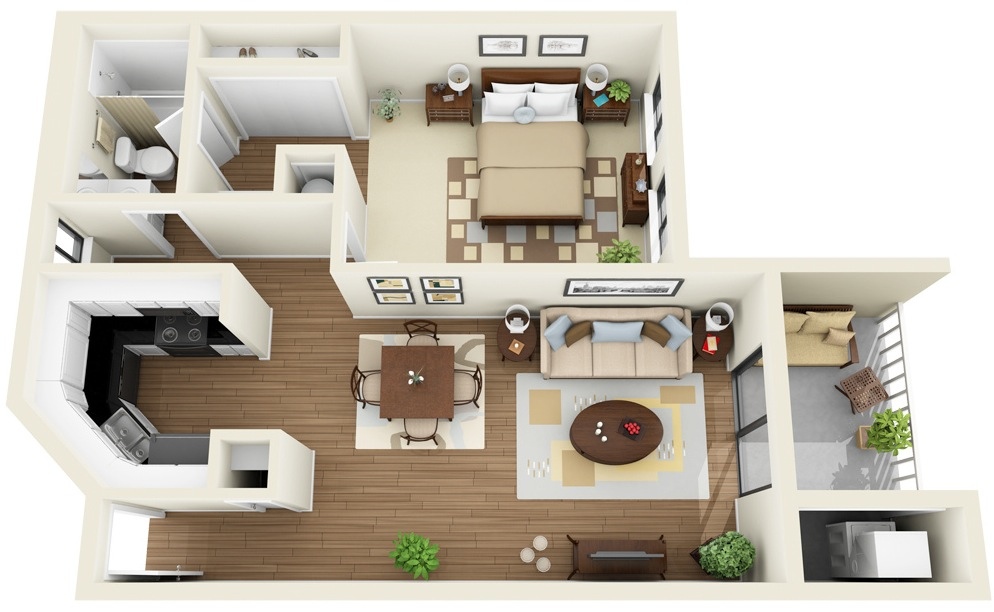 Your home reflects the person that occupies it. In easier words, your home takes after the owner and conversely, you can make out a lot by the home décor about the owner living in it. There is more too home design than meets the eye, the paint, colors, fabrics, furniture, and overall themes and all of it can be overwhelming when you have just recently bought and are figuring out the interior design for a one-bedroom apartment.
In childhood days having the home to yourself used to be the most exciting thing ever. You could watch television as long as you wanted, have the snacks your fill and phone your friends for long hours. In Uni, having a home to yourself is wild, there is no need to go over details. And now, does the décor theme, ideas, latest trends, pop culture references, finance involved, lifestyle publications all seem too much? Interior designing for one-bedroom apartment must not make you an interior designer.
In this post, we aim to give you a general idea of how you can design your apartment to keep up with the latest trends without burning a hole in your pockets while making a beautiful cozy abode where you can unwind and be yourself.
If there's something that affects your presence at social media is your home. A well-designed home is something that causes people to stop the perpetual Instagram scroll and double-tap the screen, and not only that home is where you unwind and relax from a long and fast-paced day at work. Without further ado let's get into it.
Given the general space of one-bedroom apartments the interior design for one-bedroom apartment must be so that it compensates the space available to you, keep that in mind! There are many ways by which you can make the apartment space look bigger and clutter-free.
WINDOWS
Windows play a major role in maintaining the lighting and ventilation of your apartment, so make sure that they are reasonably sized and reinforced. It is better to choose to curtain them as we don't want peeping Toms, do we? Curtains are available in markets from as cheap as? 200 per meter to a few thousand. It depends on your taste, budget, and nature of fabric whether it can be used in some particular décor.
PALETTE
Colors have an effect on people. That said, you have to choose the colors you are going to use, wisely. There has to be a harmony between colors used and it extends to paint to fabric, to furniture, and even décor items you will get. We recommend going by the minimalist aesthetic as not only it is in-vogue it can effectively compensate for small spaced apartments and help with efficient interior design for a one-bedroom apartment.
BATHROOM
Personalize your bathroom according to your taste. Use some shower curtains, appropriate size, and colored shelves and some art to keep the blank walls interesting. You can use the contrast between the tiles and shower curtain used or even the art you might put up. Here form has to follow the function.
HAVE SMARTLY DESIGNED STORAGE SPACES
Who said storage spaces have to be an eyesore? You can easily make them go with the aesthetic and creatively cover them up. Wall shelves are of various varieties now, from food containers to cupboards to storage cabinets that can be turned into fitting pieces of interior design for a one-bedroom apartment.
LIGHTING
As we have said before, we'll say it again, lighting matter. It affects the overall aesthetic appeal of a place and if done right can save you a lot of money on décor and design. Ditch the overhead fluorescent/ incandescent lamps. Go for small chandeliers for living room and pendant lights or table lamps or floor lamps in the bedroom or other spots. A couple of ceiling lights will do but that's the limit.
LIVING ROOM
The living room is crucial, you can't go overboard here with interior design for one-bedroom apartments. You have to follow the theme you chose and stick to it. Since most people who will come to your home will spend most of their time in this room, it is essential you see the make this place look warm and welcoming. Use just the right amount of wall art or photos, décor items, use a couple of rugs and throws on couch and some indoor plants to make your living room look cozy. You can use string lights, given in balance with the décor. Do keep some extra seating around like an ottoman or bean bags.
KITCHEN
The kitchen is the heart of the home. I know it is hard to imagine an aesthetic kitchen in an Indian household, but with some optimizations, you can make your kitchen look spacious and organized at all times. Invest in modular cabinets that can house 90% of your crockery and kitchen items.
When you're buying appliances try to go by the color combination of your kitchen. Keep the walls and cabinets white as they create an illusion of larger space and if you have an open kitchen with counter for breakfast, you gotta keep that place tidy. Investing in a cooking hood can help you with the smell of oil and frying.
PAINT WALLS WHITE
The whiter the walls and floor tiles, the better that is an unwritten rule of interior design for one-bedroom apartments. Not only white have a calm and soothing effect on the brain but also it can totally bring out the décor that you will choose to do. White painted homes look bigger than they are and you can couple them with other neutral tones like gray, light blue, taupe, teal, or beige. Another benefit of having the walls painted white is the glow-box effect that evens out the lighting and makes the photos taken in those surroundings look richer; plus, after you move out, it can be painted over easily.
ORGANIZE YOUR SPACE
If your apartment does not have a walk-in closet and you're not living with kids then after the kitchen, your bedroom will be the most cluttered space. Then no matter how much you spend on interior design for a one-bedroom apartment, it will be a major disappointment. That bottomless heap of unsorted clothes is a major eyesore that develops over time even when you keep organizing your bedroom. Better to get a closet or cupboard to store your clothes in. With a growing market, you have a wide range of options to choose from. It will save your time too when you're running late and that damn sock has slipped into another dimension.
INDOOR PLANTS
We have a hardwired need to care for biologically, so while you're settling down in your life and getting things done, these companions can be your silent mates of relaxing hours. Indoor plants have been around since the sixties, but lately gotten mainstream, you can consider them while chalking out the interior design for a one-bedroom apartment. The trend is rising too, go to Instagram for proof. Not only they purify the air but they also make your home look aesthetically pleasing too. If you chose the minimalist décor, then these are a must to keep the contrast going.
Also, there is more to interior design for a one-bedroom apartment than this list. From décor type to intricate curios to choose to complement the dining table. We'll take that up in the following post so that you can have a better understanding of it all. Here your home is your canvas and we hope you discover more along with this exciting journey of designing your home.
SHARE